Robert David Steele: Q, ETs, Icke, Deep State & Adrenochrome – Prepare For Change
June 12, 2019
Source: Prepare For Change | By Richard Small
This article was republished with permission from the author.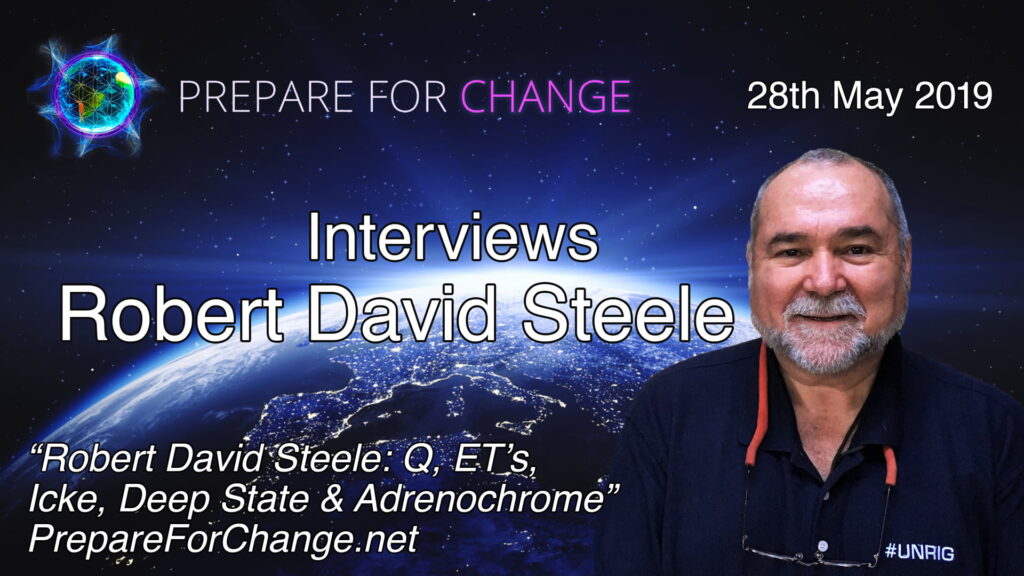 Prepare for Change speaks to Robert David Steele on May 28th in a long and winding interview that sees Robert passionately presenting his take on subjects from Q, Deep State and Adrenochrome to his recent review of David Icke's book Everything You Need to Know But Where Never Been Told. The conversation leads to thoughts on spirituality, ETs, Reptilians, the Pope and more controversial topics that are coming up in our emerging times. He also gives an opinion on what may have happened regarding earth around 2012.
An eye-opening interview and plenty of passionately provided information from one of the USA's most "in-the-know" insiders, followers of RDS will hear something new in this entertaining interview.
Prepare for Change is presenting a new format for the first time – a video interview. So, see Robert's real impact on screen.
Robert served with the United States Marine Corps for 20 years in both the infantry and civil service capacities, as an intelligence agent and trainer. He is an author, writer and book reviewer who has written eight books on intelligence and electoral reform and has published over 2,500 reviews of non-fiction writings.
Along with intelligence reform, he champions election reform through his #UNRIG Election Reform website, which he originally set up with 6 term Georgia House of Representative Cynthia McKinney.
He has created a 501c3 organization called Earth Intelligence Network that seeks to promote and teach holistic analytics and open source everything engineering. He also has a public intelligence blog called PhiBetaIota.net. His passion for exposing the human trafficking and paedophilia infection in our political and religious systems has empowered him to be a Chief Counsel for the treaty-mandated International Tribunal for Natural Justice. Most importantly he is an outspoken critic of The Deep State and all of its' dark and controlling programs.
______________________________________________________
Guest Posting
If you wish to write and/or publish an article on Operation Disclosure all you need to do is send your entry to UniversalOm432Hz@gmail.com applying these following rules.
The subject of your email entry should be: "Entry Post | (Title of your post) | Operation Disclosure"
- Must be in text format
- Proper Grammar
- No foul language
- Your signature/name/username at the top
______________________________________________________
Newsletter
If you wish to receive the daily Operation Disclosure Newsletter, you can subscribe here.
______________________________________________________
Our mission at Operation Disclosure is to bring you important news events and raw intel from various sources focused on exposing the Deep State/Cabal and their downfall. We are also focused on disclosing our lost ancient origins and extraterrestrial contact.
Disclaimer: All articles, videos, and images posted on Operation Disclosure were submitted by readers and/or handpicked by the site itself for informational and/or entertainment purposes. All statements, claims, views and opinions that appear on this site are always presented as unverified and should be discerned by the reader. We do not endorse any opinions expressed on this website and we do not support, represent or guarantee the completeness, truthfulness, accuracy, or reliability of any content posted on this website.
Copyright © 2019 Operation Disclosure